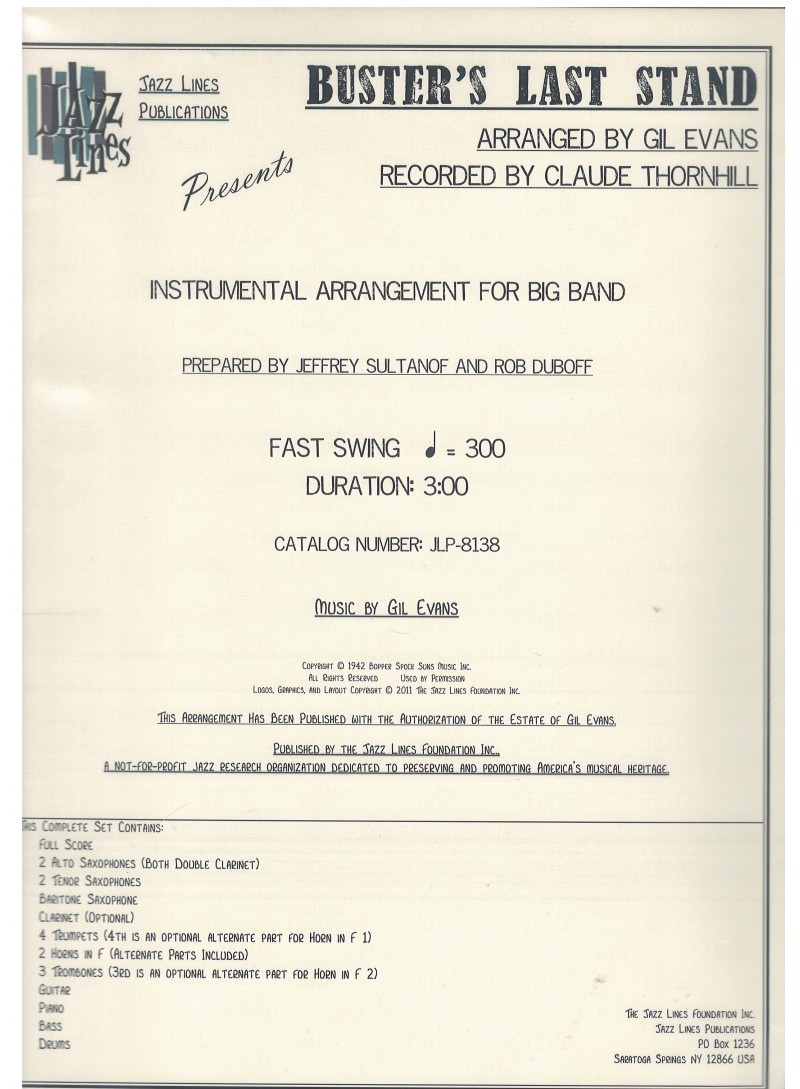  
Buster's Last Stand
Partitura e set
Casa Editrice: Jazz Lines
Full Score 
2 Alto Saxophones (both double Clarinet) 2 Tenor Saxophones Baritone Saxophone Clarinet (Optional) 4 Trumpets (4th is an alternate part for Horn inF 1) 2 Horns in F 3 Trombones (3rd is an alternate part for Horn in F 2) Guitar Piano Bass Drums 2 Trombones 
Background:
In the mid 1930s, Gil Evans was leading a Benny Goodman-styled big band on the west coast. Surviving airchecks of this ensemble show it to be an impressive unit that certainly had the potential to become quite successful. However, vocalist Skinnay Ennis of the Hal Kemp Orchestra was going out on his own, and Evans's agency decided that Ennis should take Evans's orchestra. Along with Ennis came pianist/arranger Claude Thornhill, and the two arrangers became fast friends. When Thornhill formed his own orchestra, Evans came with him, although he continued to write for the Ennis ensemble.
The Music:
Buster's Last Stand is one of the few fast swing pieces that the Thornhill band played. They recorded it for Columbia Records in 1942 shortly before a ban on recording was imposed by the music union, and it remained in the book when the Thornhill ensemble was re-formed in 1946. 
This edition of Buster's Last Stand comes from photocopies of the original parts except for the reeds, which were recopied years later for a performance by the American Jazz Orchestra (the original parts appear to be in very rough shape). There are some differences between the Columbia recording and this version, suggesting the Evans continued to refine and tinker with the piece after the war.
A sixth reed was present at the original recording session, and this part seems to be missing. It is reconstructed here, although it is optional.
Notes to the Conductor:
During the big band era, this sort of devilishly-fast composition was called a flagwaver, used to end a set as a set-up for big applause. Although it was not their norm, Thornhill's ensemble proved that it could handle such a piece, as the performance of this tricky music is played near flawlessly for the Columbia recording. Since Thornhill and Evans were very particular about how their music was played, there must have been a lot of rehearsal to get this piece just right.
We have included optional 4th trumpet and 3rd trombone parts that are alternates for the two horn in F parts. But, you should only use them if you don't have the horn players available. Both alto saxophones double clarinet. And, the 6th reed is an optional clarinet part.
Codice catalogo

JLP-8138

Codice ISBN

9781574061895

Riferimento

20938